Reviving the tradition of beautiful Calendula Baby Products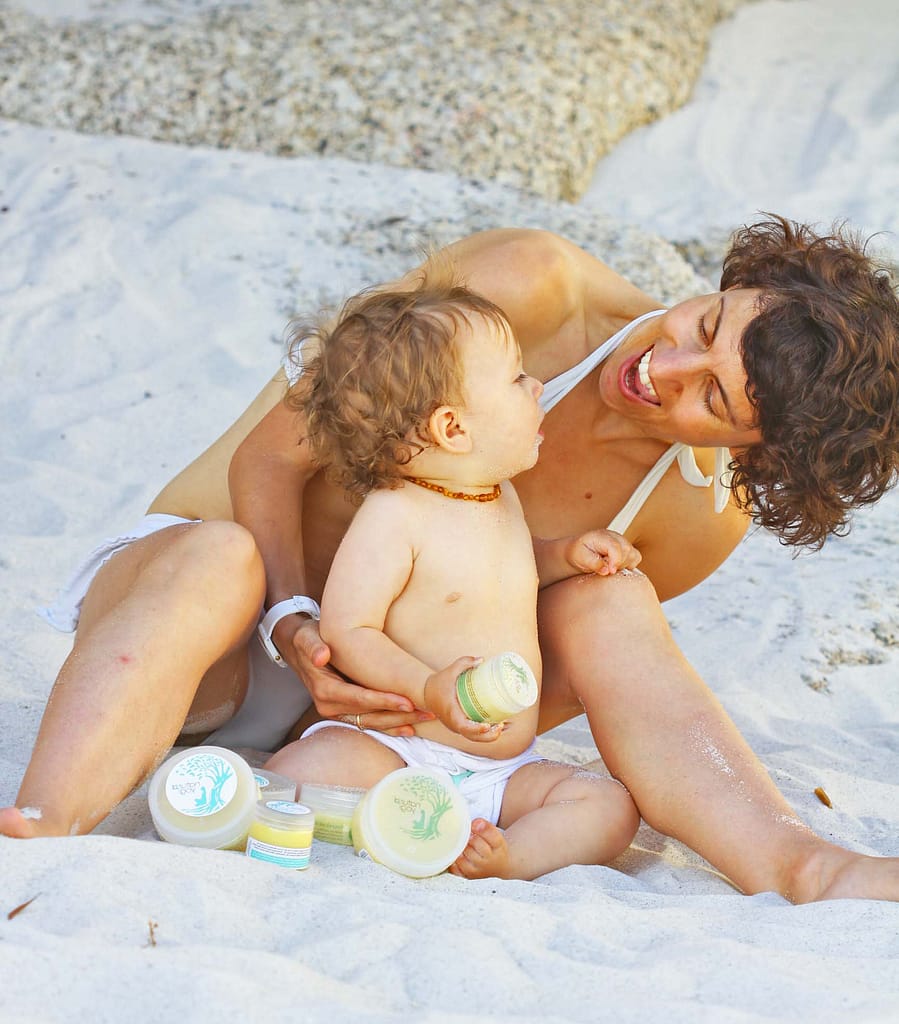 The ingredients of Natural Yogi's Mother and Baby Chamomile and Calendula Range are chosen specifically for their natural purity and gentleness for babies' skins. Ingredients include high-quality cold-pressed natural oils as well as Beeswax and Shea Butter. Light (high linoleic) oils that are specifically recommended to maintain the barrier function of babies' skins are predominantly used. The value of Beeswax, Shea Butter and natural oils for babies is that they create a nourishing boundary to protect baby's delicate skin but unlike petroleum/mineral-based products, they allow the skin to breathe.
With their gentle soothing and healing properties Calendula and Chamomile are the traditional herbs of choice for babies' skins. Calendula works wonders on any kind of a rash, skin irritation or even sunburn. It is proven to increase the rate of healing. Both herb extracts are also gorgeously gentle to the touch – soothing the skin and also the nervous system.
Calendula Baby Massage Oil
In a blend of sunflower oil (high linoleic), sweet almond oil and grapeseed oil, the Chamomile and Calendula Baby Massage Oil adds a touch of these herbs to be soothing not only to the skin but also the entire nervous system. Both Chamomile and Calendula have also been shown to soothe muscle spasms and cholic.
A lovely time to massage is after a bath. You can also add a few drops to bath water for extra skin-nourishment. For some helpful guidelines on baby massage see https://www.babycentre.co.uk/a1042915/massaging-your-baby, or https://www.youtube.com/watch?v=uqJ89-NNxiA
__________________________________________________________________________________________________

Mum's Calendula Nipple Balm
Painful, sometimes cracked, and even bleeding nipples can be a significant challenge for breastfeeding mums – either first start breastfeeding or later when the baby gets teeth. Latch problems are often at the base of the problem but a good healing nipple balm can be a great help.
Sometimes inflamed and cracked nipples can result from – or become more susceptible to – a viral infection. Natural Yogi's Mum's Calendula Nipple Balm makes use of the extraordinary healing and soothing powers of in particular Calendula – but also Beeswax and Shea Butter. Calendula is shown to speed up wound-recovery with its powerful antiviral, anti-bacterial and anti-inflammatory properties.
Simply apply to nipples after breastfeeding. The ingredients (all food-grade) are absolutely safe for baby so you won't need to wash your nipples before breastfeeding.
_________________________________________________________________________________________________

Calendula Healing Salve
Calendula is soothing and has been proven to significantly increase the rate of healing. It is known to have anti-inflammatory, antiseptic, antimicrobial and powerful antifungal properties, The salve is specifically designed for use on inflammatory skin conditions such as sunburn, minor skin abrasions, rashes, insect bites and dry and chapped skin and lips. It is perfect for the delicate skin of babies and the elderly. Calendula is also shown to relax muscle contractions.
__________________________________________________________________________________________________
Natural Yogi Deodorant
Natural Yogi deodorants were created as an amazingly effective alternative to chemical-laden antiperspirants, with an awareness in particular of what we take into the lymphatic tissue of our armpits that connects directly to our mammory tissue. Moreover, Natural Yogi Deodorants don't restrict the flow of perspiration so that toxins don't build up in the breast tissue. Camilyang, with Chamomile and Ylang Ylang offers a soft, lovely, neutral scent.
A perfect gift for new moms…
Get the full Mother's Love Calendula Set for R360
)