The Natural Yogi approach to Breast Health, aside for living, breathing and eating well, is in particular to activate the flow and elimination of toxins in the breast tissue. As a wonderful accompaniment to Natural Yogi Deodorant, which was also inspired around breast health, and in a gorgeous-smelling blend of other lymphatic-stimulating, tonifying and uplifting essential oils, Natural Yogi Frankincense Chest and Breast Massage Oil was developed to inspire the ritual of regular breast massage – one of the most wonderful ways of activating flow and elimination in the breast tissue.
By getting the flow and elimination going, not only are toxins and stagnation eliminated, but fresh, nourishing blood is delivered to the cells – allowing for healthier breast tissue.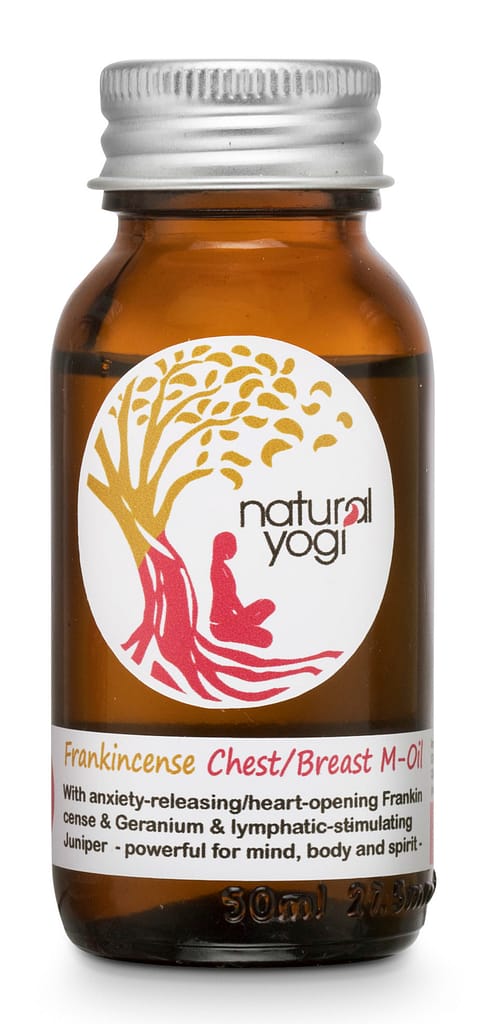 Did you know that studies indicate that breast massage is likely to reduce your risk of breast cancer?

This makes sense if you agree that illness is more likely to occur where tissue is unhealthy and where toxins accumulate.


With the discovery that certain plant extracts and essential oils have powerful tumor-reducing, lymphatic-stimulating and hormone-balancing qualities, this gorgeous-smelling oil was inspired by the idea of the ritual of a regular chest and breast massage – to stimulate flow and elimination within the breast tissue. (Below we outline some for chest and breast massage guidelines).

What is moreover powerful about this oil is its relaxing and uplifting, breath-opening effect, which you will instantly feel. Some people refer to it as the heart-opening oil. And being a Chest and Breast Massage Oil – it is not just for women. Our chests are where we hold the tension of anxiety – which often we are not even aware of. Regular massage of this area allows us to become more aware of this tension, release it and become light and open to the world again.

Natural Yogi Frankincense Chest and Breast Massage Oil contains powerful extracts of, in particular, Frankincense as well as the essential oils of Geranium, Grapefruit, Thyme and Chamomile. Natural Yogi Frankincense Chest and Breast Massage Oil includes not only the essential oil of Frankincense but also an infusion of the resin.
Frankincense essential oil (see more here) has powerful anti-inflammatory, anxiety-busting and mood-lifting qualities – its healing powers have been known since ancient times. It opens the breath and is effectively used for asthma. There is also a lot of research and excitement around Frankincense's anti-cancer – or tumour-reducing – qualities. These, in specific relate to Boswellic Acid, a compound of Frankincense found in the resin. Natural Yogi Frankincense Chest and Breast Massage Oil includes not only the essential oil of Frankincense but also an infusion of the resin.
Grapefruit essential oil adds its lymphatic-stimulating qualities, stimulating the detoxifying effect of the lymph in our breast tissue and reducing water retention levels. Along with the Frankincense it has a notable uplifting effect on our mood.
Geranium oil adds its wonderful hormone-balancing, calming and beautifying qualities. This beautifully feminine oil is effectively used to soothe PMS and Menopausal symptoms, releasing also water retention. Along with Frankincense it is famed for its skin-healing and anti-aging qualities. It encourages blood flow below the surface of the skin and has astringent and tonic effects, tightening the skin to reduce wrinkles and increasing muscle tone – all of this along with a wonderfully soothing and uplifting effect on our psyches.
Thyme and Chamomile essential oils have both been found (in-vitro) to be highly effective in selectively inhibiting and killing breast cancer cells.
You simply have to experience the mood-enhancing, relaxing, slightly tingly and enlivening experience of this oil. We think Natural Yogi Breast and Chest Massage Oil is a simply great product. We highly recommend it.


Instructional videos and resources around breast and chest massage
The videos below just offer some instructional guidelines. In the end you will come up with your own routine that works for you.
Depending on how much time you have, after doing your breast massage, work with little circular movements into your chest area, into any areas that are sensitive. You can work your fingers even under your ribs into the attachments of your diaphragm. At the centre of the chest is your thymus gland, an important gland for our immunity. Many techniques recommend thumping it to increase our life energy and vitality.
Now enjoy!